Major London Projects
TfL Business Plan 2012
Transport for London's Business Plan (published dec 2012) set out their plans for the next decade and helps frame the priorities and opportunities for the development of transport in West London.
The Mayor's Transport Strategy sets out the Mayor's requirements for the Capital's transport network to support the realisation of forecast population and employment growth.

This Business Plan describes how TfL will implement this strategy and provide the best value for customers, businesses and London as a whole. This document is structured around three broad requirements for the city:
1) Driving London's employment and population growth:
The investment required to ensure the city can reliably support an expected one million additional residents and more than 600,000 new jobs over the next 20 years.
2) Putting customers at the heart of the business:
Ensuring that TfL's investment is built around the requirements of our customers by providing a safe, secure, reliable service where personalised and consistent customer service is paramount.
3) Making life in London better for all:
Creating an environment in the Capital that maintains its position as the world city where people want to live, work and visit.
To view the full document click the following link - TfL Business Plan (Dec 2012)
Sub-Regional Transport Plans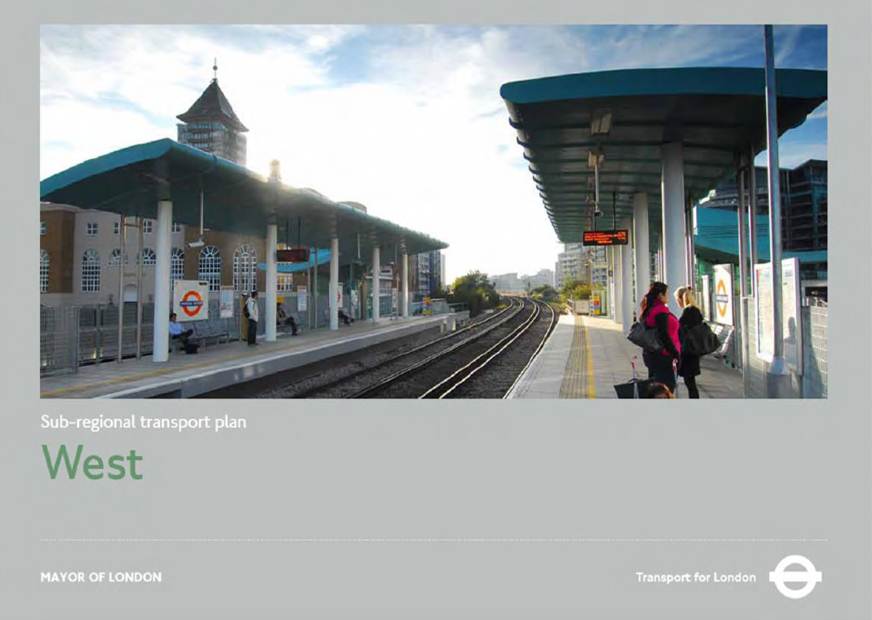 Transport for London, in conjunction with the Greater London Authority, worked closely with the West London boroughs and other stakeholders such as WestTrans to develop the West London Sub- Regional Transport Plan. Since the Plan's publication, WestTrans' activities have been guided by its contents - both in terms of its overarching objectives and the specific items in its implementation plan.

The West London Sub-Regional Transport Plan was published in November 2010, alongside the Sub-Regional Transport Plans for the four remaining London sub-regions. The West London Sub-Regional Transport Plan is intended to fill the gap between the strategic policies and proposals in the Mayor's Transport Strategy (MTS) and the local initiatives in boroughs' Local Implementation Plans, defining the strategic direction in the medium and longer term.

The key challenges identified in the West London Sub-Regional Transport Plan were to:

Improve north-south connectivity;
Improve access to, from and within key locations;
Enhance east-west capacity and manage congestion;
Enhance the efficiency of freight movements in the sub-region;
Improve land-based air quality.
West London Sub Regional Transport Plan (.pdf, 3591Kb)
Roads Task Force

The first major strategic review of London's road network for a generation has begun, working to propose long term solutions to improve the capital's roads and tackle some of London's most high profile junctions such as Hammersmith Flyover, Purley Way, Wandsworth Town Centre, Euston Road, Archway, and Kings Cross.
The Roads Task Force, a key election pledge by the Mayor, is looking at how TfL and the boroughs could redesign gyratories and congestion blackspots, make journeys more reliable, and continue to make roads safer for all users. It is also looking at how the road network could better serve local communities, helping to transform the urban realm, cut pollution and ease congestion across the capital.

Mayor of London Boris Johnson said: "A healthy road network is essential for this great city; for our economy, for pedestrians, bus passengers, motorists, and cyclists. London deserves a road network that isn't just a relic of 1950s and 1960s urban planning, but a road system that is fit for the 21st century. My Roads Task Force will consider every need and help ensure the future success of our capital."

This comprehensive review will enable the Mayor and TfL to make the best possible long term strategic decisions for the competing demands London's road network faces, while planning for population growth and economic development.
Full details are available on the Road Taskforce Website


Crossrail
Crossrail is a joint venture between Transport for London and the Department for Transport to build a new railway linking Maidenhead and Heathrow in the west, to Shenfield and Abbey Wood in the east.
Crossrail will provide high frequency, safe and comfortable journeys, carrying 78,000 passengers per hour in peak times.
Construction has already started, with the central section expected to be complete by the end of 2018.
Benefits of Crossrail include:
Faster journey times
Reduced crowding on the Tube and train networks
A 10 per cent capacity increase on public transport
Thousands of new jobs
Economic benefits of £50bn to the country
Full details and updates are available on the Crossrail website
HS2 (pictures)
High Speed 2 (HS2) is a planned high-speed railway between London and the Midlands, Northern England, and potentially the central belt of Scotland. The project is being developed by High Speed Two Ltd, a company established by the UK government. The route would take the form of a "Y", with a trunk between London and Birmingham, then splitting into two spurs, one continuing to Manchester, and another to Leeds via the East Midlands. The line is to be built in phases with the section between London and Birmingham being the first phase. There will be no stops between London and the West Midlands.

In January 2012 the construction of phase 1 between London and Birmingham was approved with an indicated opening date of 2026.

Full details and updates are available on the HS2 website.
Old Oak Common
A new generation of high speed trains, running at speeds of up to 250mph, will stop at a major new interchange station just north of Wormwood Scrubs before terminating at Euston.
The Government has recognised Old Oak Common's vital role in taking pressure off busy central London terminals like Euston - which could not have coped with 13,000 extra passengers an hour.

Around a third of all high speed (HS2) passengers are expected to transfer at Old Oak Common onto the station's unrivalled rail and road connections, including a new Crossrail and orbital rail interchange.

Five of the nation's major airports will be linked to the high speed rail network for the first time through the Old Oak interchange. Heathrow will be just 11 minutes away, Birmingham will be 38 minutes direct from Old Oak and Luton, Gatwick and City Airport will all be within 45 minutes. Other rail connections - such as the Great Western and West Coast mainlines, Crossrail, West and North London Lines, Bakerloo and Central Underground lines, and Heathrow Express - all criss-cross the site and the A40 and North Circular Road also border the site.
Biking Boroughs
Thousands of short journeys are made across London's outer boroughs every day, which makes cycling the perfect way to travel. With this in mind, we launched the Biking Boroughs initiative in 2010 to get more people on their bikes. Thirteen outer London boroughs were given £4million funding to help raise the profile of cycling, improve facilities and highlight safety awareness locally.

The West London Biking Boroughs are:
Other outer London Biking Boroughs include;
All of the Biking Boroughs are now finding and funding ways to encourage more people to take up cycling; whether to work, or in their leisure time. Many of the boroughs' plans include:
Creating and improving cycle routes and access
Educating people about cycle safely
Making train stations more cycle-friendly
Building more cycle hubs
For more detailed information on what's happening in your borough, click on the borough links above.

Ealing Bike Hub
Cycle Superhighway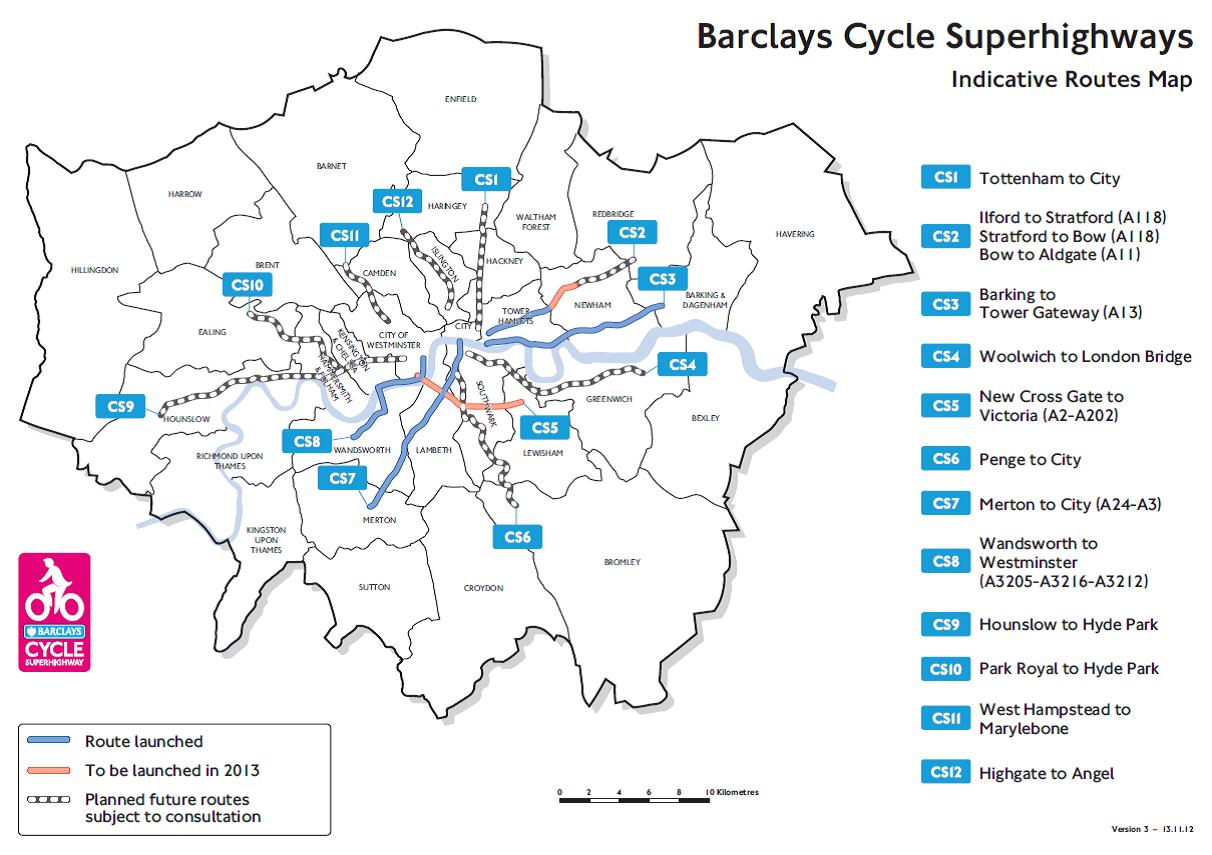 Barclays Cycle Superhighways are cycle routes running from outer London into central London. They give safer, faster and more direct journeys into the city and could be your best and quickest way to get to work.
Four have launched, with a further eight to be introduced by 2015.

The Barclays Cycle Superhighways are being built to improve cycling conditions for people who already commute by bike, and to encourage new cyclists.

As part of the Mayor's cycle revolution the aim is to increase cycling in London by 400 per cent by 2025 (compared to 2000 levels).
West London will benefit from 2 routes these are:
CS9 - Hounslow - Hyde Park (due to open in 2014)

CS10 - Park Royal to Hyde Park (due to open in 2015)
Full details are available on the Barclays Cycle Superhighway website
Cycle Hire Schemes
The Mayor of London's flagship Barclays Cycle Hire scheme was launched in July 2010 with the aim of increasing access to cycling across the City. The scheme has proved such a success that their are plans to expent the scheme to areas of outer london.
Hammersmith and Fulham have been the first west london borough to benefit directly from the expansion, with four stations installed at Westfield Shopping Mall in Shepherds Bush early in 2012.
TfL as part fo phase 3 of the expansion into Hammersmith and Fulham aims to install docking stations every 300-400 yards, with each stand hosting a minimum of 25 bikes - that means a total of around 1,500 hire bikes would come to the borough.
Full details are available on the TfL website
Source London

In 2009, Boris Johnson, Mayor of London, published the Electric Vehicle Delivery Plan for London with the aim of making London the electric vehicle capital of Europe.

The aspiration is to have;
100,000 electric vehicles on the road as soon as possible

A network of publicly accessible charge points across London

The ultimate aim is for every Londoner to be within one mile of an EV charge point.
Transport for London is working with private and public partners to make this possible.



On 26 May 2011 the Mayor of London, Boris Johnson, launched the Source London charge point network.

The publicly accessible charge points are located at supermarkets, on the street, London Underground car parks and car parks all over London. Customers can register with Source London, pay an annual fee and receive a card in the post which will unlock any of the Source London charge points to charge the vehicle at no additional cost (parking charges may apply).

Full details and updates are available on the Source London website.

Olympics

During the 2012 Olympic and Paralympic Games visitors to London were expected to increase by 325,000 each day. Ensuring that spectators, officials and athletes got to the various venues quickly and comfortably, and that there is sufficient capacity available on the public transport network, was crucial to the event's success.

Transport for the Olympic and Paralympic Games was delivered through a partnership between LOCOG, the ODA and a number of transport authorities and operators. The five key Games transport objectives were:

Provide safe, secure, inclusive, fast and reliable transport for the Games Family client groups
Provide frequent, reliable, friendly, inclusive, accessible, environmentally friendly and simple transport for spectators and visitors from all around the UK and overseas
Leave a positive legacy and to facilitate the regeneration of east London
Keep London and the rest of the UK moving during the Games
Achieve maximum value for money for every pound spent on transport
To support the delivery of these objectives a London 2012 Transport Plan was published to show how LOCOG, the ODA and their transport delivery partners intended to meet the transport challenges presented by the Games and deliver on their promise to not only keep London moving during the summer of 2012 but minimise potential disruption to business.
In addition to infrastructural measures across the capital a massive promotional campaign took place called "Get ahead of the games" providing information to businesses, commuters and visitors. The impact of this was tremendous.