Higher and Further Education

Higher education and further education (HE/FE) institutions are key trip generators and ideal places within which to engage with young people at a stage when they are starting to form adult travel behaviours as they become legally able to drive and more independent.
Travel plans

Provision is made through local borough councils and Transport for London to manage school travel plans, but as yet, sites 'in-between' such as colleges and universities are provided no support or incentives to develop travel plans for staff and students. It is with this in mind that WestTrans offer support to the ten HE/FE sites in the subregion with regards to travel plan development, implementation and monitoring.


Student Cycling Event Days

With support from the Mayor's Air Quality fund WestTrans have also been able to provide student cycling event days to each site, to engage staff and students to participate in activities which will actively foster the adoption of more sustainable travel behaviour and raise awareness of local air quality issues.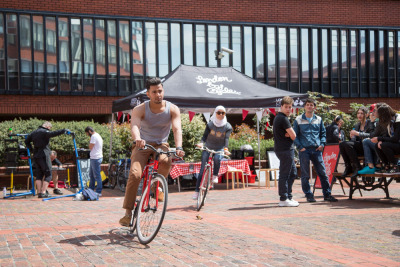 Student Cycling Champion for West London

Last year (2016-17), in partnership with the London Cycling Campaign, we secured funding to appoint two Student Cycling Champions. They ran a 12-month pilot project, working with two higher and further education sites across West London.
The aim of the project was to build upon our popular student cycling event days to identify and develop longer term projects at each site with inbuilt sustainability, in order to increase the number of students in West London who cycle or travel actively.The project was a big success at Brunel University, and we will be running it again this year, from September 2018. This will include the new provision of a Santander cycle scheme for Brunel students to use.